The Brantley Risk and Insurance Center at Appalachian State University
By Tanner Grail – Appalachian State University, Junior
August 2021
As an underclassman at Appalachian State University, I have cultivated several academic and personal goals to help mold my collegiate journey. Among the most important of those goals is my desire to establish a strong footing in my field of study and find a sense of place that would encourage me to go above and beyond. Little did I know I would accomplish said goals and so much more through the Brantley Risk and Insurance Center.
Supported by an advisory board of industry professionals, the Brantley Risk and Insurance Center is dedicated to developing the strongest possible program in risk management and insurance at Appalachian State University.
Some of the primary objectives of the center include providing students with opportunities to participate in professional designation and licensing programs, involving students in hands-on industry experiences, and aiming to educate the public about the role and functions of the insurance industry.
With such a high level of execution of those objectives, its no wonder the Risk Management and Insurance program at Appalachian State is among the highest ranked in the nation. The Brantley Center has proven time after time a refined ability to send out adaptable, industry-exposed students into the insurance industry.
About the Author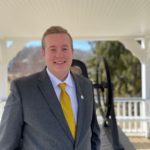 Tanner Grail is currently a student entering his Junior year at Appalachian State University in Boone, NC. Tanner focuses his studies on insurance and risk management and is part of the Brantley Risk & Insurance program at App State. For the Summer of 2021, Tanner is interning at Founders Professional.