Founders Professional is proud to represent the New SwissRe Lawyers Professional Liability Insurance product in ARIZONA
Never before available in the State of Arizona, SwissRe is excited to launch their industry leading Westport lawyers professional liability insurance program as of October 1, 2019. This program is written on an admitted policy form and is designed for law firms 1 – 19 attorneys in size.
SwissRe has appointed Founders to provide Arizona attorneys with direct access to its Lawyers Professional Liability products.
Agents that are interested in accessing this program in the State of Arizona may do so by partnering with Founders Professional.
HIGHLIGHTS
Broad Definition of Professional Services
Free Retirement Tail with Uniquely Liberal Continuity-of-Coverage Language
Named Insured has the Right to Consent to Settlement (Soft Hammer)
Data Breach Protection: up to $10,000 per incident/ $20,000 per policy
50% Deductible Reduction with Acceptable Use of Engagement Letters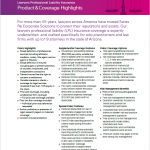 Product & Coverage Highlights >
---
Questions? Contact Raffi Kodikian | VP & Lawyers Professional Liability Practice Leader
raffi.kodikian@founderspro.com  |  415.850.8503